Hi, everyone.
The Self Published Fantasy Blog Off is now in its 5th year. It's an awesome contest hosted by best-selling author Mark Lawrence and supported by top bloggers such as Booknest and Fantasy Book Critic. 300 books are entered and split across 10 judges who all run very respectable and influential websites. For more information on the process, by all means, visit Mark's post which explains it perfectly. HERE – Past winners and popular entrants include Mike McClung, Rob J. Hayes, Josiah Bancroft, Ben Galley, JA Andrews, Mitchell Hogan, Brian D. Anderson, ML Spencer, Craig Schaefer, Jonathan French, and J. Zachary Pike amongst others.
The line-up of the full 300 was completed earlier today so these are my eight choices of the books I'm most excited and I think could do well in the contest this year, in no particular order. There are always surprises and a thrilling nature which keeps the contest utterly engaging throughout. I hope this post might help newbies. When I judged this two years ago I had no idea who the majority of the authors were so I think a post like this could help. Please note, I have no affiliation with the contest in any way. These thoughts are my own.
Without further ado…
Ben Galley – Chasing Graves

Note:- A past semi-finalist. A huge supporter of the self-published scene. He's written at least 7 books (and these are the ones I can think of off the top of my head.) 100% one to watch but he may have been placed in a very difficult group if the rumours are to be believed. Good luck, sir.
M.L. Kang – The Sword of Kaigen

Note:- I've heard nothing but good things about this book. I've been told it seems to flow in a similar vibe to other oriental and popular works written by authors such as Fonda Lee and R.F. Kuang. It's loved by Petrik (Novel Notions) who is one of the only reviewers whose opinions that I truly trust.
JA Andrews – Pursuit of Shadows

Note:- JA Andrews is a 2-time SPFBO semi-finalist. She writes adult fantasy but with a true sense of goodness and heart. This genre is called Noblebright and if anyone should deserve the title then she's the Queen of Noblebright. Grimdark and Dark Fantasy seems to be the go-to genre in this competition. JA, although supporting what is on paper a different approach is always very close to the finals. There must be a reason for that. Highly recommend works.
Graham Austin-King – The Lore of Prometheus

Note:- Graham Austin-King is an amazing writer. I've read two of his books and was lucky enough to proofread one of them and receive an early chapter of this story whilst it was in development. I think it's only a matter of time before one of the big publishers pick up Graham – and Emma, a top UK Goodreads reviewer, Fantasy Book Review-er, and friend of mine really loved this novel.
Richard Nell – The God King's Legacy

Note:- When I first spoke to Richard about a year ago he had about 20 Goodreads reviews for Kings of Paradise. He now has close to 650 and it is from word of mouth. Everybody seems to enjoy his writing. I imagine this is his next book and it has the always excellent typography from Shawn T. King. I pay close attention to Goodreads ratings and exposure and he has done amazingly well for himself. An extremely talented indie author whose books I can't wait to fully devour.
Rob J. Hayes – Never Die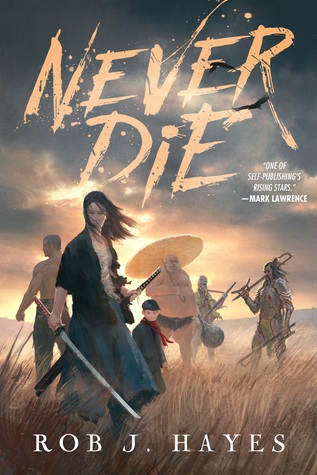 Note:- Rob J. Hayes is probably the finest self-published grimdark author currently writing. He does have stiff competition from quite a few people in this competition but I think he just edges the rest. Winner of #SPFBO 3 with Where Loyalties Lie so he can't be that bad. I've actually read this book. The full review can be seen here – Imagine Crouching Tiger, Hidden Dragon mixed with Mortal Kombat written by a master of Grimdark Fiction. 'Nuff said.
Benedict Patrick – From the Shadows of the Owl Queen's Court

Note:- I've read a handful of Benedict's books and he is a talented artist with his words and stories. He writes dark fairy tales that perhaps even the Brothers Grimm would be proud of. I've never been disappointed which his works and he always gets nominated for the best cover contest. Recommend.
Brian McClellan – Uncanny Collateral

Note:- You know the competition is legit when you have the big boys like Brian McClellan wanting to attend the party. This is a self-published urban fantasy outing once again with Typography by Shawn T. King. Brian kindly sent me a copy of this which I have yet to read but I'll be following how this book does closely. To give you an idea, his novel Promise of Blood has over 34,000 ratings on Goodreads.