Hi, all.
My post today is about the top 15 grimdark/ dark fantasy books I've had the pleasure of reading. I'm only one guy so I acknowledge there are many more good books in this genre I am yet to enjoy. Any recommendations then, by all means, let me know in the comments. I currently write for Grimdark Magazine and used to write for Fantasy Book Review. I have only been a reviewer for 3 years so these choices will probably sway towards the more recent releases. I've normally been sent the best books of the genre during this period. I will quote from, and link to my own reviews where it is relevant and hope you like the list. This isn't a post for people to say, well, that isn't Grimdark in my opinion. Everything here, I think a Grimdark fan could enjoy. Unlike a lot of these sort of posts, I will feature my favourite book in the series, not just the first. This is in no particular order. Thanks for reading.
Andrzej Sapkowksi – Baptism of Fire (The Witcher Saga #5)



"What a company I ended up with,' Geralt continued, shaking his head. 'Brothers in arms! A team of heroes! What have I done to deserve it? A poetaster with a lute. A wild and lippy half-dryad, half-woman. A vampire, who's about to notch up his fifth century. And a bloody Nilfgaardian who insists he isn't a Nilfgaardian."
My quote – "9.5/10 – This series is finally reaching the lofty heights that it has always hinted at." Click here to see the full review.
Joe Abercrombie – Before They Are Hanged (The First Law #2)

My quote – "8.8/10 – This trilogy is a character-driven fantasy adventure that is close to unequalled in the genre. Gripping, thrilling, gritty and pretty damn awesome." Click here to see the full review.
"We should forgive our enemies, but not before they are hanged" – Heinrich Heine
Peter Newman – The Ruthless (Deathless #2)

My quote – "9/10 – One of the most developed, unique, and thrilling fantasy series currently being written." Click here to see the full review.
Mark Lawrence – Prince of Fools (Red Queen's War #1)

Note:- I've read every single series Mark Lawrence has written and have rated all his works highly. Prince of Thorns is the natural choice to be here. However, this is my personal list and I enjoyed this series more. For new readers to Grimdark, however, Prince of Thorns is a great place to start, but you can start here too in The Broken Empire world.
My quote – "9.4/10 – Stunning… Jalan and Snorri are one of the finest duos I have had the pleasure of reading about." Click here to see the full review.
Anna Smith-Spark – The Court of Broken Knives (Empires of Dust #1)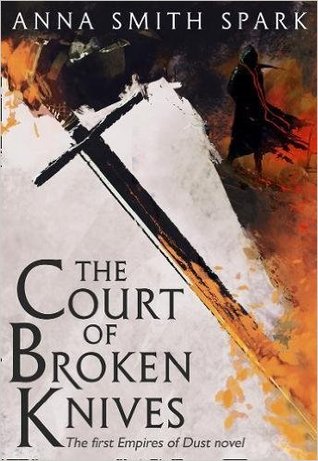 "Not sure I really feel like fucking someone who's part god and part suicidal drunk, you know"
My quote – "9/10 – Grimdark of the highest order with one of the most complex, beautiful and destructive characters ever written" Click here to see the full review.
Alexander Dan Vilhjálmsson – Shadows of the Short Days

My quote – "8/10 – A masterfully crafted dark tale . . . one of the most ambitious, intense, original and thrilling debuts I've read in a long time" Click here to see the full review.
Ed McDonald – Blackwing (The Raven's Mark #1)

Note:- I was very lucky. I was the first reviewer to read and then review Blackwing which is probably the only reason my quote is on the cover. Ed is one of the nicest guys in fantasy and I've just finished Crowfall and it's incredible.
My quote – "9.2/10 –  Guaranteed already, this will be one of the best books I will read this year. I can see Blackwing becoming a big deal in the fantasy world and I can't wait for the next book." Click here to see the full review.
Rob J. Hayes – Where Loyalties Lie (The Best Laid Plans #1)

Note:- Winner of #SPFBO. I'd say Hayes is the finest self-published Grimdark Author around. (Sorry, M.L Spencer, Rosalyn Kelly, and Ben Galley. You guys rule too!)
My quote – "8.5/10 Piratical grimdark mastery, superbly written, with utterly engaging characters" – Click here to see the full review.
Anna Stephens – Godblind

Note:- One of the nicest members of the fantasy scene (unless you are scared of hammers) – I was lucky enough to attend the Godblind book launch.
My quote -" 8.5/10 – A thrilling, unrelenting and a brilliantly presented debut." – Click here to see the full review.
Steven Erikson – Midnight Tides (Malazan: Book of the Fallen #5)



Note:- I don't have a quote about this one as I read this before I started reviewing. 10/10. By far, by so much distance far, it's the best book I have ever read and I don't think I'll ever read one better. The big reveal. Just, wow. Don't want to bugg anyone with it so let's just carry on.
R.F. Kuang – The Poppy War (The Poppy War #1)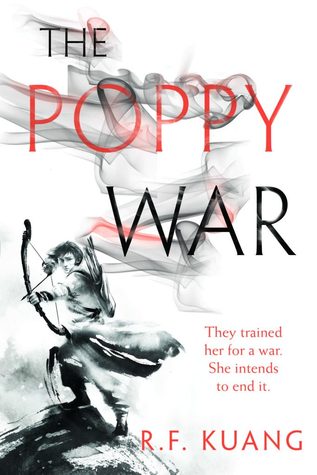 Note:- I'm currently reading the sequel and it seems even better somehow.
My quote – "9.4/10 – A masterpiece by grimdark's newest and perhaps darkest daughter." – Click here to see the full review.
Peter McLean – Priest of Lies (War for the Rose Throne #2)



Note:- As far as I can remember, I'm sure Peter can tell you otherwise if I'm wrong, I was the first reviewer to read Priest of Bones too and loved it which is why I metaphorically knocked down Ace Books door to get a copy of this. It's even better than the first.
My quote -" 9.0/10 – Priest of Lies is stunning low fantasy by an author who is on top of his game." – Click here to see the full review.
Dyrk Ashton – Paternus: Wrath of Gods (The Paternus Trilogy #2)



Note:- There is a rumour that this book was written by Dyrk Ashton's alter ego Micheal R. Fletcher (Grimdark royalty) but I have met Dyrk once and if it was one of Michael's doppels it was very convincing. Either way, this is one of the most researched myth/legend/lore based dark epic urban fantasy concoctions ever written. Dyrk is a SPFBO semi-finalist with over 1000 Goodreads reviews as a self-pub author. When you have me 😉 lol, Anthony Ryan, Nicholas Eames, Anna Stephens, MR Carey and Mark Lawrence on your covers then you aren't doing too bad. I'm not going to link this one but I said the first book was "A dark urban fantasy gem"
Gareth Hanrahan – The Gutter Prayer

My quote – "9.4/10 – Hanrahan's highly anticipated fantasy debut is a real breath of fresh air . . . The Gutter Prayer features a skilfully crafted world, with masterful drama, expert dialogue, brilliant characters and an ending I did not see coming . . . A book that every fantasy fan should read" – Click here to see the full review.
Justin Call – Master of Sorrows

My quote – "9.4/10 – This novel features tragic and sad deaths, utter betrayals, twisty-turny-twisty-turns, phenomenal weapons, and well depicted disabled individuals… This is so much better than The Name of the Wind." Click here for the full review.